OUR HISTORY
INELAS is a Spanish company located in Zaragoza dedicated to the manufacture of polyurethane elastomers that we registered under the brand INAPRENE®. Its foundation in the year 1966 coincides with the beginning of the search of the industrial applications of these elastomers in the world. These more than five decades of existence with a determined vocation to know the possibilities of these materials, the tests made with them and the constant research in process improvement have given the company an experience difficult to match. Likewise and in parallel, quality levels have been raised to exceed the most demanding.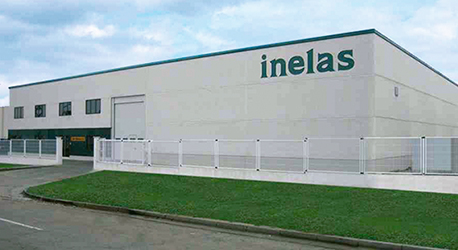 COOPERATION WITH OUR CUSTOMERS
The close cooperation with our customers, together with our continuous dedication to research, has led over the years to the development of innovative products that have allowed us to increase productivity, cost efficiency and safety of our customers. Examples include the development of the INE-FLOW screen for high performance, anti-clogging striking arm, polyurethane inner lined pipes and recently the modular classifier tromel.

RESEARCH TECHNOLOGY
The increase in the demand for our products, with great acceptance both in the domestic market and, above all, in the international market, together with the dynamic character of the company, have led to important extensions of our facilities in the last decade and the incorporation of machinery with the latest technological innovations. OWN FORMULATION
Offering our customers a product of the highest quality has always been the main objective of Inelas. For this reason we have been working for more than 50 years in the relevant aspects that give our products such recognition in the market:
Own formulation, optimal for each application.
Best quality raw materials.
Continuous improvement in processes.
Investment in machinery and technology.
Continuous innovation in product, design and application.

TECHNICAL ASSESSMENT
Our experience of more than 50 years in the various fields of application of our products provides us with a deep knowledge of the operation of our clients, which allows us to offer the best advice in choosing the optimal solution, as well as providing them with the greatest technical support. This is also achieved thanks to our clear vocation of customer service, listening to their needs, innovating in product with them and being their interests the center of our work.